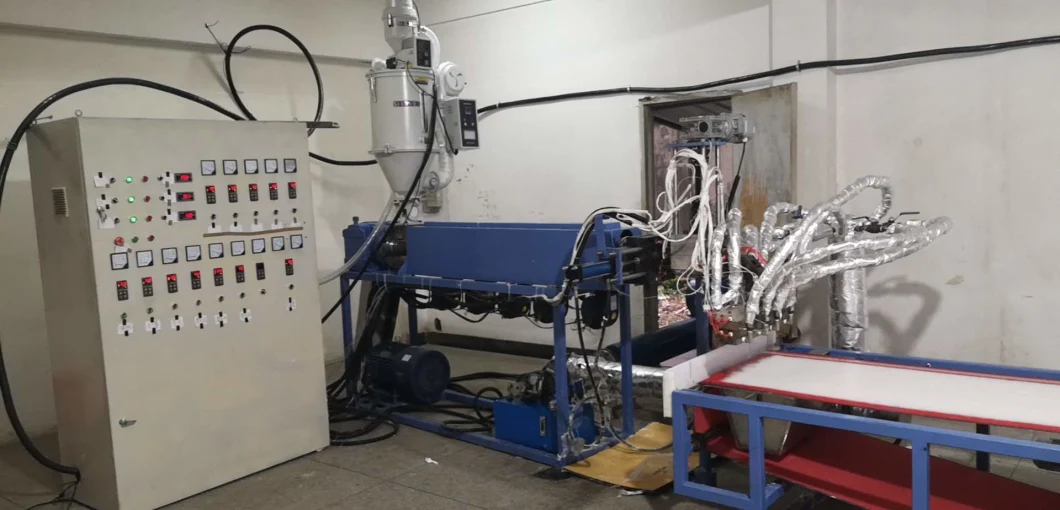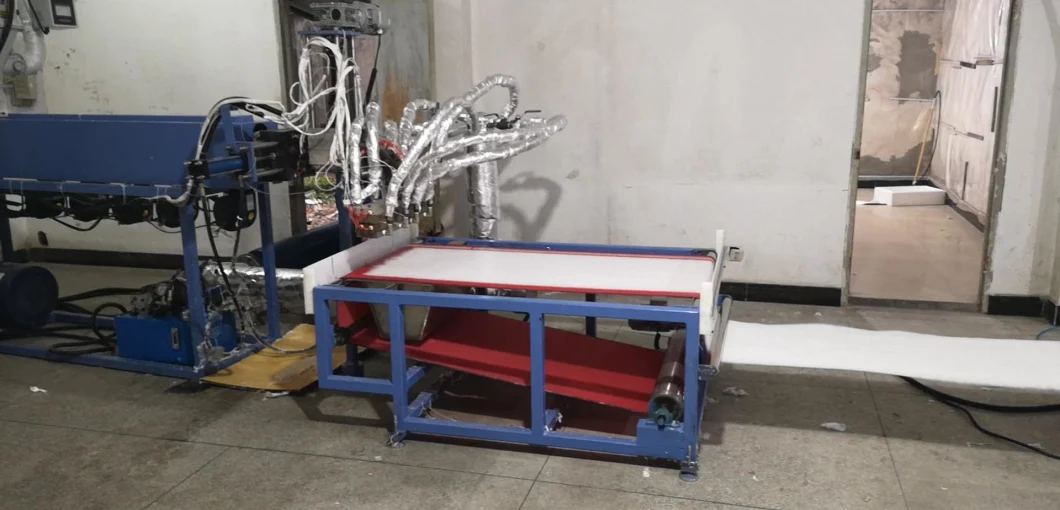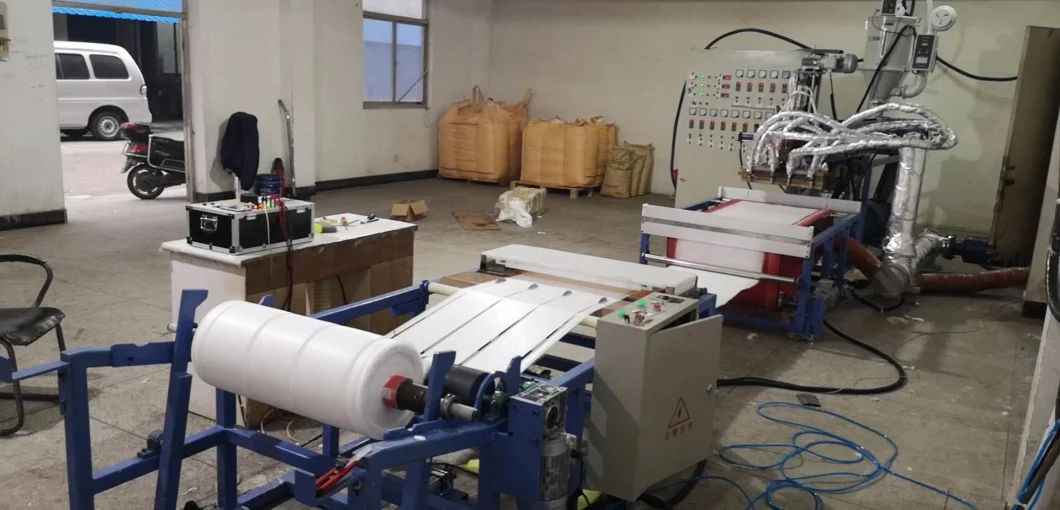 PRODUCTION PRINCIPLE OF MELTBLOWN CLOTH:
Hot Air injection is used to extrude the hot polypropylene from the holes of the Spinneret nozzle to make it extend in the form of fiber, and then gather on the conveyor belt to form the fiber web according to its self-fusion. The spinnerets are lined with tiny nozzles, and the flow of molten polypropylene from the nozzles extends through the high-speed Air Stream and concentrates on the moving conveyor belt to obtain a melt-blown cloth.
The melt blown cloth mainly uses polypropylene as the main raw material, the fiber diameter can reach 1 ~ 5 microns. These microfibers with unique capillary structure increase the number and surface area of fibers per unit area, thus, the melt blown cloth has good filterability, shielding property, heat insulation and oil absorption. It can be used in the fields of air, liquid filter material, isolation material, absorbing material, mask material, heat preservation material, oil absorption material and wiping cloth etc. .
Serial number

Name of accessories

Model Number

Power

Unit capacity

1

CAST aluminum heating ring

Inner diameter 120 * Height 350

380V,2.0KW

10 tablets

2

Coil Cooling Fan

180W

Five

3

FREQUENCY CONVERTER

65

18.5KW

1

4

FREQUENCY CONVERTER

Roots Blower

22KW

1

5

FREQUENCY CONVERTER

Roll-up curtain

0.75KW

2

6

Motor

65

18.5KW-4P

1

7

Motor

Metering pump decelerates 1:50 motor

0.75KW

1

8

Motor

Blade Motor speed ratio: 3

90 Watts

1

9

Motor

Winding Motor

0.75KW-4P

2

10

Motor

Cord Motor

0.75KW-4P

11

Unpowered drum

Outside diameter 50

6

12

Air Blower

2,000 cubic hours

4KW

1

13

Bending roll

Outer Diameter 100

1

14

Expansion shaft

75 MM (3 inches)

2

15

Cutting knife

Inside 40, outside 150

4

16

Air Heater

22KW+22KW

UNIT PRICE: 900 units

Two series

17

Nose heater

Diameter 20.5, length 190

900W

6

18

Heating Rod

Diameter 20.5, length 230

900W

4

19

Suction Drier

Simmer 50 kg + 300 kg

1

20

Eject Gearbox

65

173-16 speed ratio

1

21

Speed reducer

Roll-up curtain

Rv63-20

2

22

Main control box

Temperature Control Section 12,

1

23

Melt blown Mesh chain

0.88 wide, 3.4 meters long

1

24

METERING PUMP

50cc/r

1

25

Yang Ming brand temperature controller

12

26

Screw, barrel

65 screw barrel

ASPECT RATIO: 1:30

1

27

Cord Drum

Diameter 150

1

28

Rewinding drum

Diameter 150

1

29

Frank, pick up

1

30

90-degree runner

1

31

Head screw

12.9

32

High temperature air supply pipe

Six points, 16 mm bore

4

33

Screw discharge screen

Aperture 5.2 mm

1

34

Antistatic tester

50 kv

high voltage testing machine

Wuhan Wu Gao Electric Survey Company

35

Three-leaf roots blower

22KW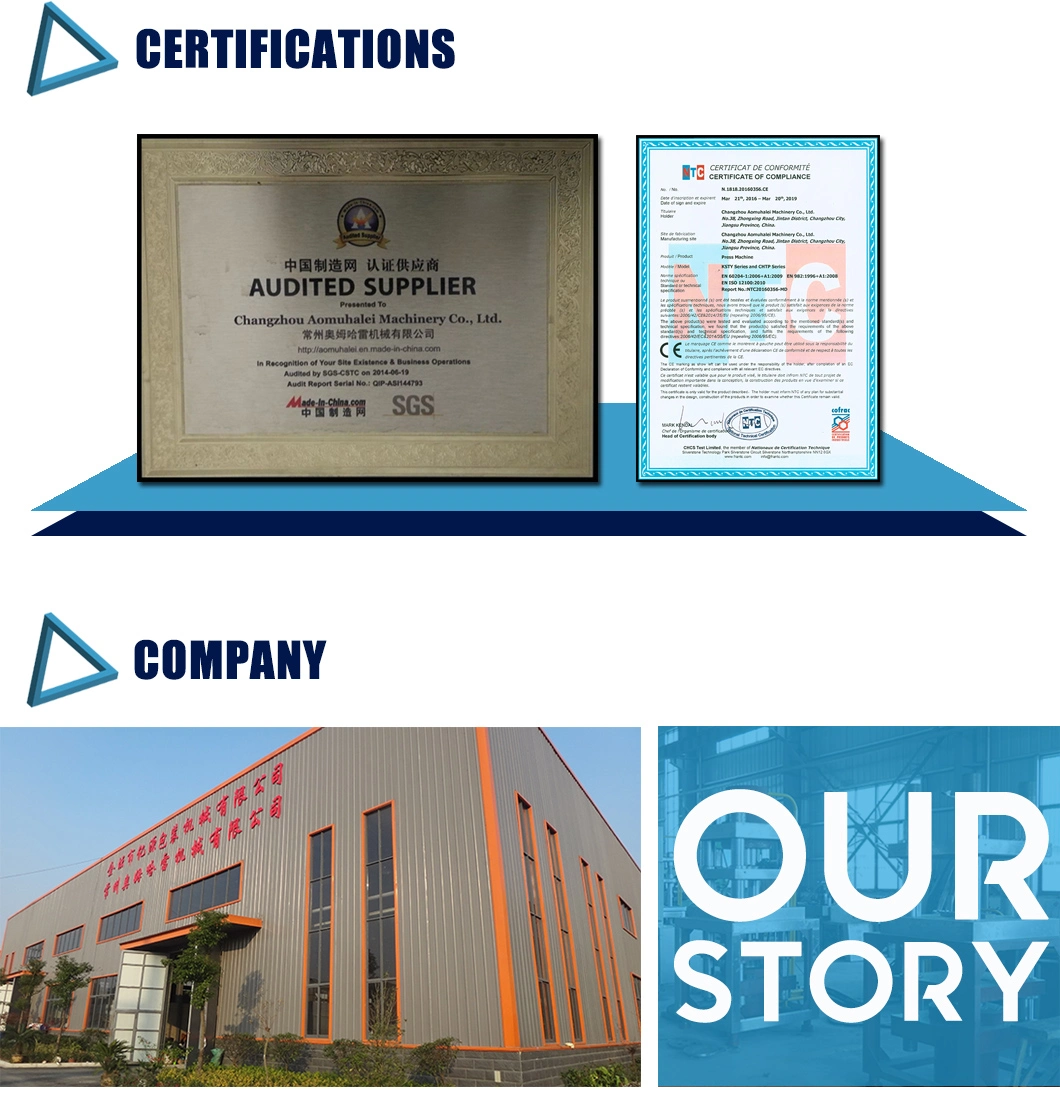 We are the machine maker with more than 20 years experience in China. Located in Changzhou, only 1h hour by G train to us from Shanghai. Also you can arrive us by plane, we have Changzhou Bengniu airport. Please feel free to contact us.We make and supply various kinds of tablet press machines, such as animal licking salt block press machine(1kg 2kg 5kg 10kg even 25kg), chlorine tablet press, 500T~1200T large hydraulic tablet press and so on, which have the characteristics of high stability, high efficiency, low cost, save work, and one-person -multi-equipment. Members of our Leadership are good at machine technology than sales. So we supply the service of customized machine. In usual, most of them are not in clean offices, but working in our workshops, which received much admire especially from foreign clients, not only machine quality and perfect after sales service system.

"Quality is as important as Integrity" is the principle of our Aomuhalei Machinery Co., Ltd. All our members do the job following it.

After more than 20 years' Efforts, we bring in advanced technology of tablet press and filling machine both from domestic and foreign countries, and have done R&D of a new generation of automatic tablet presses and automatic filling machines which are of various types, appealing out look, complete functions and wide range of applications.