High Speed PP Spunbond Nonwoven Fabric Making Machine for Bag
Zhejiang Yanpeng Nonwoven Machinery Co.,Ltd is a professional Non woven fabric making machine manufacturer.
Our mission:
Become the preferred overall supplier of non woven fabric making machine industry.It's famous for international R&D,quality,service,flexibility and reliability.
Model

YP-SS

Product width

1600mm

2400mm

3200mm

Machine size

29*13*10 m

30*14*10 m

32*15*10 m

Speed

350 m/min

350 m/min

350 m/min

Gram weight

10-180 g/m2

10-180 g/m2

10-180 g /min

Output(products according to 20 g/m2)

9-10 T/Days

13-14 T/Days

18-19 T/Days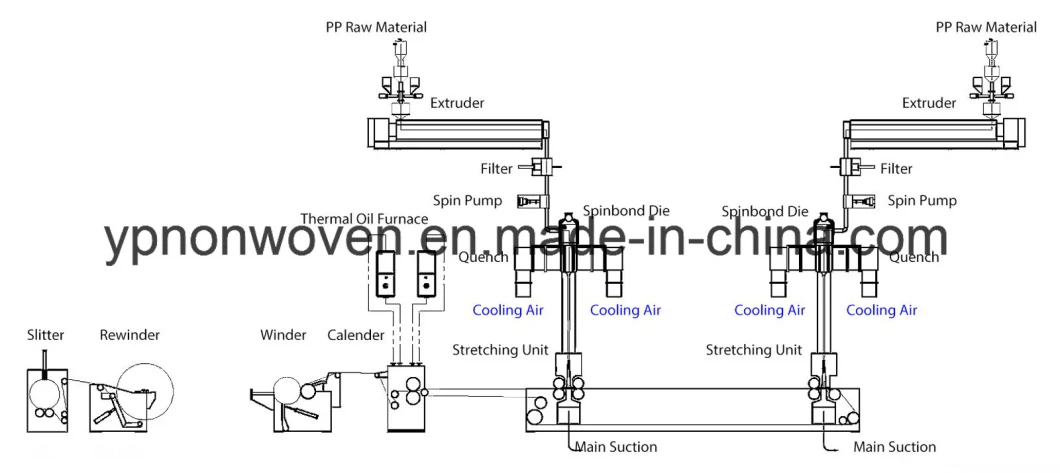 High Speed PP spunbond non woven fabric making machine for bag application:
Non woven Packaging Product:Shopping bag, suit cover, rice packaging, knitwear cover, clothes packaging, table cloth, other products,include pillow slip,bedspread,car cover cover for quilt,computer,air conditioner and fan cover etc.
1600MM PP Spunbond Non woven fabric making machine:
Dosing device
To feed chips from the ground to the dosing and mixing system on the third floor. Main material and auxiliary materials can be prepared as per a certain ratio.Dosing and mixing device, consisting of a main material tank, two auxiliary tanks, a mixing tank, a suction device