Nonwoven spunlace head cover,spunlace doctor head cover for muslem
Spunlace muslem doctor cap,muslem nurse cap,muslem head cover for hospital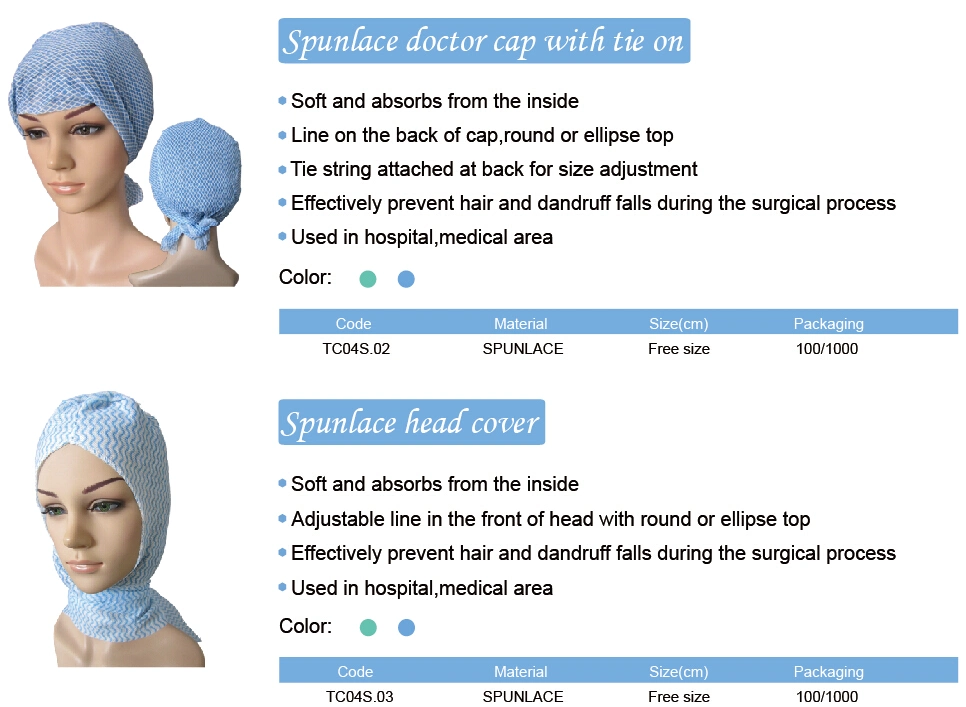 Name: Spunlace Muslem doctor cap
Material: SBPP
Size: 18", 21", 24", 26", 28", 30"(as requested)
Gram weight: 10g/12g/14G/16g
Color: White/blue/green/red/yellow/grey/orange
Pattern: With single/double elastic
Advantage :Disposable ,comfortable ,breathable and hygienic
Port :Wuhan or Shanghai
Origin :China
Delivery time :As your quantity demand and time when we receive the deposit
Mainly used in hospital ,chemical industry,drugmarkers ,samtiation environment
Other Products: Bouffant cap/clip cap/mob cap/worker cap/doctor cap/nylon cap/sister cap/fascia/shower cap, etc.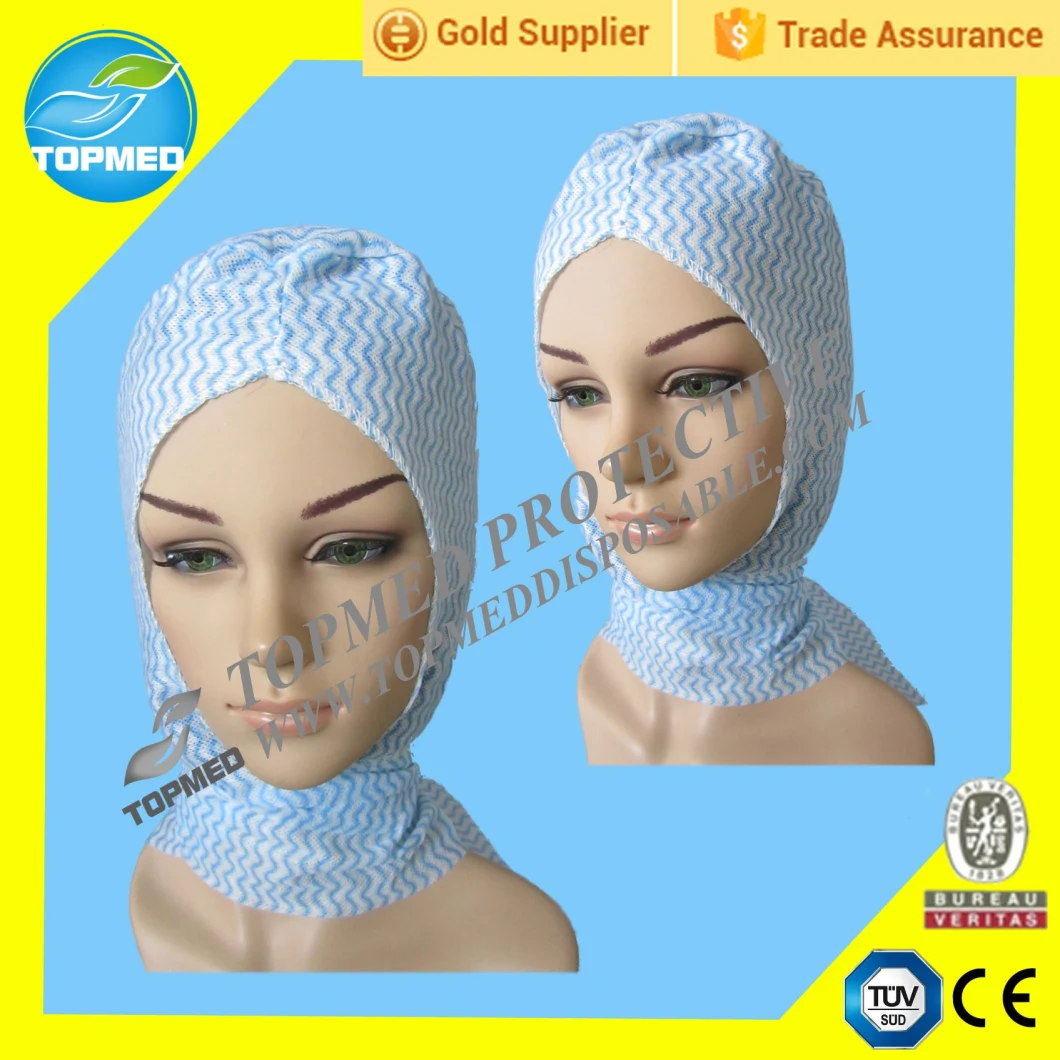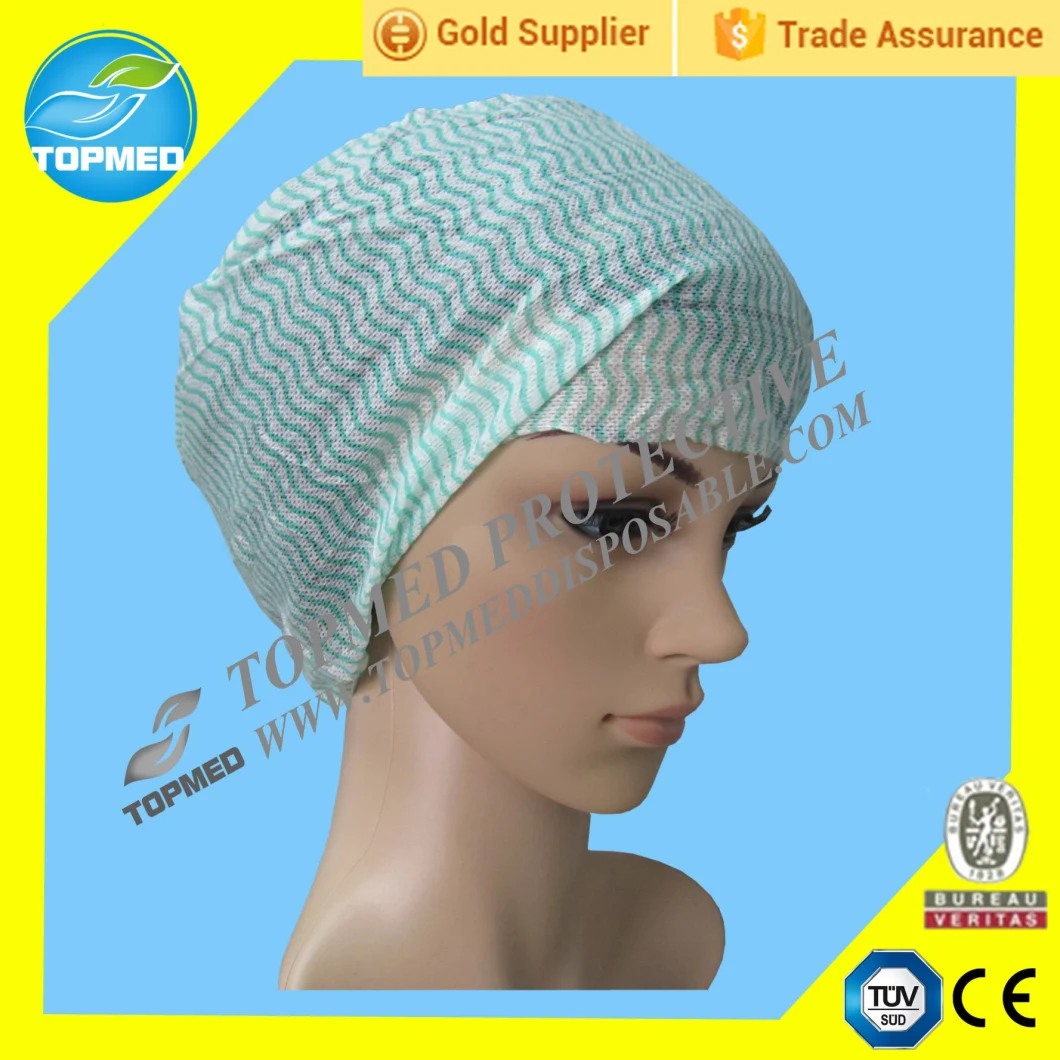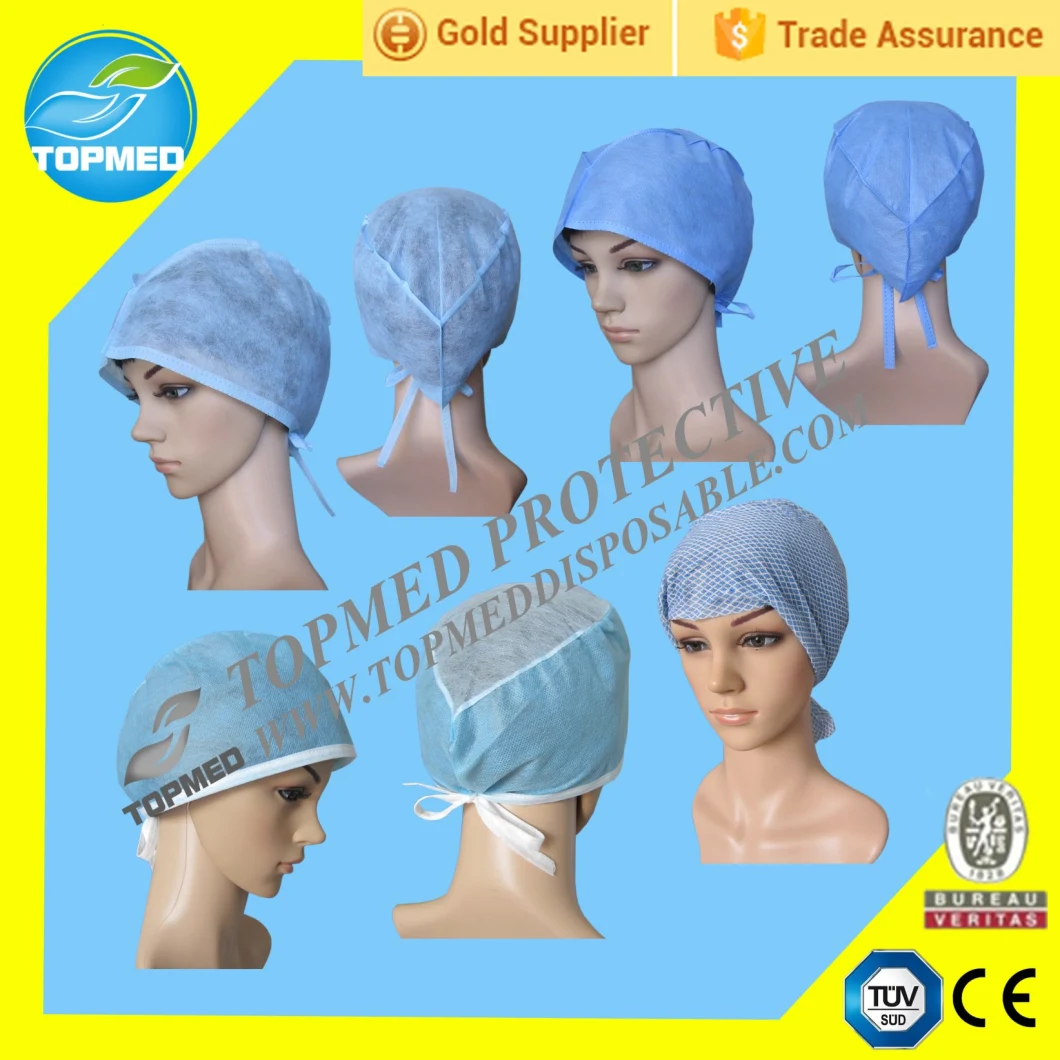 About Topmed:
TOPMED was established in 1997,The Major products we produce are nonwoven disposable products include face mask,bouffant caps,surgical gown,isolation gown,patient gown,visitor coat,lab coat,coverall,sleeve covers,shoe covers,bed sheet,bed cover,pillow cover,apron and so on. which is widely used in medical, industry and beauty&hair salon field. Main markets are Europe,North America,South America and Southeast Asia and other regions.
TOPMED is a powerful factory that have rich experience and strong financial support in disposable nonwoven products field, It is located in Xiantao city,Hubei province. Covering an area of 6000 square meters and over 300 workers,whose are skilled workers as well as accumulate a wealth of experience for production. Our buildings are the modern workshops for all the products. Furthermore we have set up stable cooperative relationship with four material factories to satisfy the customer's delivery date requirements. Now our production capability is over 20x40HQ containers per month.
Other Products We Sell:
1. Cap:
1.1. Bouffant cap
1.2. Doctor cap:(surgical cap with tie/surgical cap with elastic)
1.3. Strip cap
1.4. Space cap
1.5. Peak cap
1.6. Round cap with fringe
1.7. Shower cap(PE)
2. Body wear:
2.1. PP/CPE Isolation gown :(With Knitted cuff/Elastic cuff)
2.2. Surgical gown:(Sterile/Non-sterile)
2.3. Lab coat:(PP/SMS)
2.4. Coverall: (PP/SMS/PP+PE)
2.5. Scrub suit:(PP/SMS)
2.6. Sauna suit:(PP/SMS)
2.7. Patient gown
2.8. Pants:(Man/Woman)
2.9. Brief:(Man/Woman)
2.10.Bra
3. Shoe cover/Boot Cover:
3.1. Non-woven shoe cover/boot cover
3.2. Non-shid shoe cover/boot cover
3.3. PE shoe cover/boot cover
3.4. CPE shoe cover/boot cover
4. Face mask:
4.1. Face mask with ear loops:(1ply/2ply/3ply/4ply)
4.2. Face mask with ties:(1ply/2ply/3ply/4ply)
4.3. Active carbon face mask:(3ply/4ply)
4.4. Face mask with eye shield:(3ply/4ply)
4.5. Dust mask:(120g/140g/160g/180g)
4.6. Paper mask:(1ply/2ply)
5. Other Main Products:
5.1. Gloves( HDPE/LDPE/CPE/TPE)
5.2. Apron:(Non-woven apron/PE apron)
5.3. Sleeve cover:(Non-woven sleeve cover/PE sleeve cover)
5.4. Bed cover/Bed Sheet
5.5. PE hair-cut cape
5.6. PE ear cover
5.7. PE raincoat/poncho
5.8. Wipe cloth/surgical dressing
5.9. Pillow case
5.10 Clear face mask