Why should we
use Bamboo Paper?
Listed below are several reasons to purchase and use bamboo paper products including:
Bamboo is a quickly renewable resource

.

Bamboo is the single fastest growing species of plant on the planet with some species growing more than a meter a day. In sharp contrast to trees which require decades to recover from harvesting, bamboo reaches maturity in 3 to 5 years or less and when it is cut, the stem is left in the soil to sprout a new shoot and start the growing process again.

Bamboo thrives in depleted soil.

In environmentally stressed areas where rainforests have been clear-cut and burned, bamboo is one of the few plants that can grow easily and begin the process of returning nutrients to the soil. Bamboo also grows on mountainsides and on steep slopes where few other cash crops can.

Bamboo paper is recyclable.

Just like paper made from wood pulp, bamboo paper can be recycled to lessen our impact on the environment and further reduce our reliance on trees.

Bamboo helps to reduce soil erosion.

The rhizomes (roots) of the bamboo plant branch out from the stalk which helps to secure soil from erosion and retain precious soil moisture. This also helps to prevent silt from choking rivers and streams and affecting aquatic life.

Bamboo provides jobs and economic development.

In economically depressed areas Sichuan province,China where unemployment and lack of income foster civic unrest, We offers farmers a viable cash crop and jobs in bamboo paper mills give residents a chance to provide a higher standard of living for their families.
As more and more consumers look for everyday products that are environmentally responsible, the emergence of bamboo paper products on the world's markets offers us a chance to save our remaining hardwood forests and reduce the catastrophic environmental effects of clear-cutting and deforestation. The impact of bamboo paper on the worldwide paper industry is still being determined but the largest manufacturers are taking notice of this trend in the marketplace and introducing innovative uses for bamboo paper every day.
Bamboo is a plant that offers limitless potential for the future. It offers us strength, sustainability, versatility, and a green alternative

JRT (Jumbo Roll Tissue)
Product Details

Advantages

Item

Jumbo Roll Toilet paper

Hotel/KTV/School/office building/Chamber

Color

White

White/Natural White

Material

100% Recycled

Recycled/ Bamboo/Virgin Pulp can be chosen

Ply

2-Ply or as customers' request

1-3 Ply can be made as per customers' request

Gram Density

17gsm

13.5g-17g, can be made as per customers' request

Embossing

Edge Emboss

Fully Embossed/Edge Embossed/Plain

Core

With Core 76mm,84mm

76mm

Width

84mm,90mm,95mm

customized

Length

240m

150m-240m

Weight/Roll

720

550g-1000g can be made as per customers' request

Diameter

23cm

17-24cm
Eternity Jumbo rolls is flexible, absorbent strong and not easily broken, does not contain fluorescent agent, provides an atypically long and mini etc with different specifications, different terminal client demand, use comfortable and secure.
Detailed Pictures: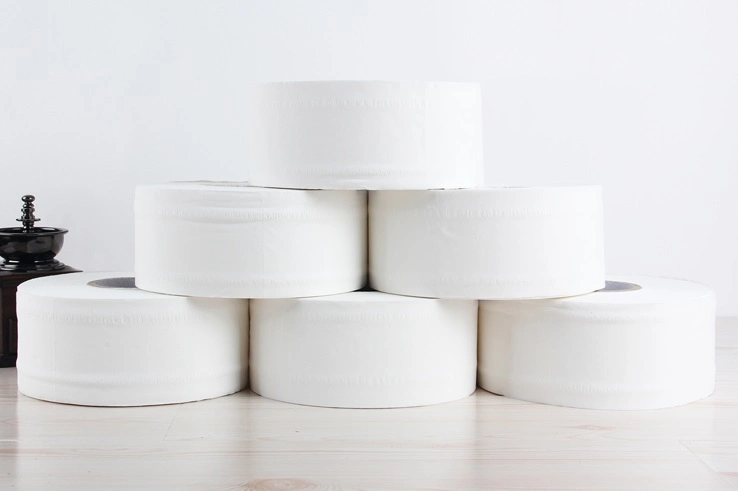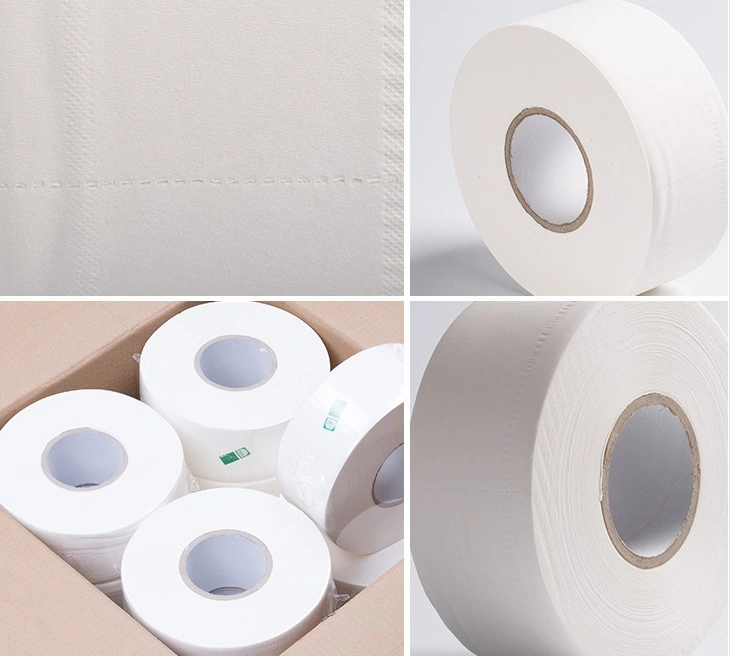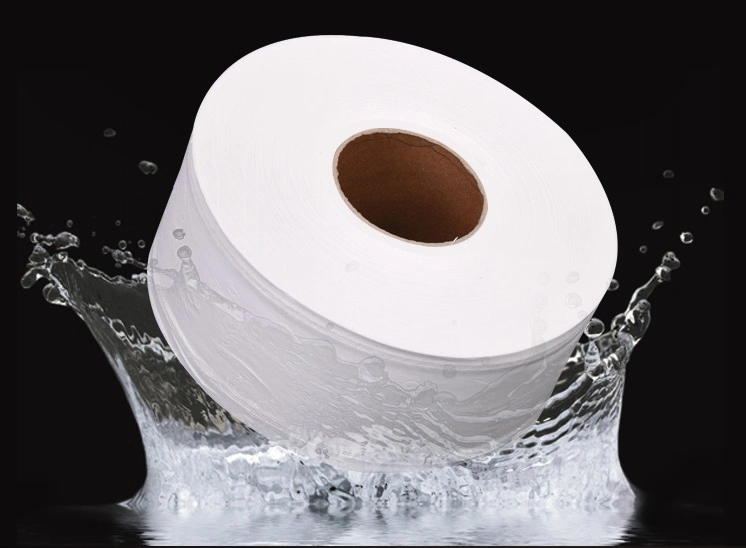 Features & advantages:
>Dust free, non-toxic
>Affordable luxury toilet roll
>Soft, durable and easily dissolved
>Many specifications to choose
Packaging Details: individual shrink wrapped/handle bag/, 8rolls/12rolls per case




Delivery Detail: within three weeks
FAQ:
Q1:What's your Product Range?
Standard toilet paper roll /Jumbo Roll Tissue /Kitchen towel/ Paper Napkins / Hand towel /
Paper Toilet seat cover
Q2:What's your advantage? Why we choose you?
>We are 10 years of OEM/ODM manufacturer.
>Short production time and timely delivery.
>Large production capacity with lowest MOQ.
>Good quality, competitive price and admirable reputation .
>Any customized size,packaging and logos are welcomed.
>Free and professional package design could be available.
Q3:Do you have any certificate or test report of your products?
We have ISO9001(quality system), ISO14001(environment system),FSC, BSCI ,we have established a highly strict quality control department to guarantee reliable quality.
Q4:Can we use our private size,designs or packaging?
Yes, any size, designs and packaging would be welcomed.

Q5:Can we have samples?
For the samples, as our company rules, we can offer you free items, and in our first cooperation,
the delivery cost would be in your expense, later the fee could also be returned to you. But after
long cooperation between us, free samples could be available without delivery cost.

Q6:What's the MOQ and Payment?
Our minimum order quantity is 1x40'HQ, T/T (30% deposit and balance paid against the copy of B/L)

Q7:How Can I get very competitve price?
Please send us the email and provide as much detail specifications as possible. Like tissue size, material, weight, ply,
package,printing, quantity etc. The more detail information, the more accurate we can quote you the price.
If you really have no idea of the specs, please try to find some photos of the products. We will make a price for your
reference based on our experience.
♥Be free to contact us and more details of products will be shown to you.
We have professional sales online for any inquiry from Monday to Saturday (Beijing Time8:00~18:00).
All emails will have replied within one working day.
Or Contact directly: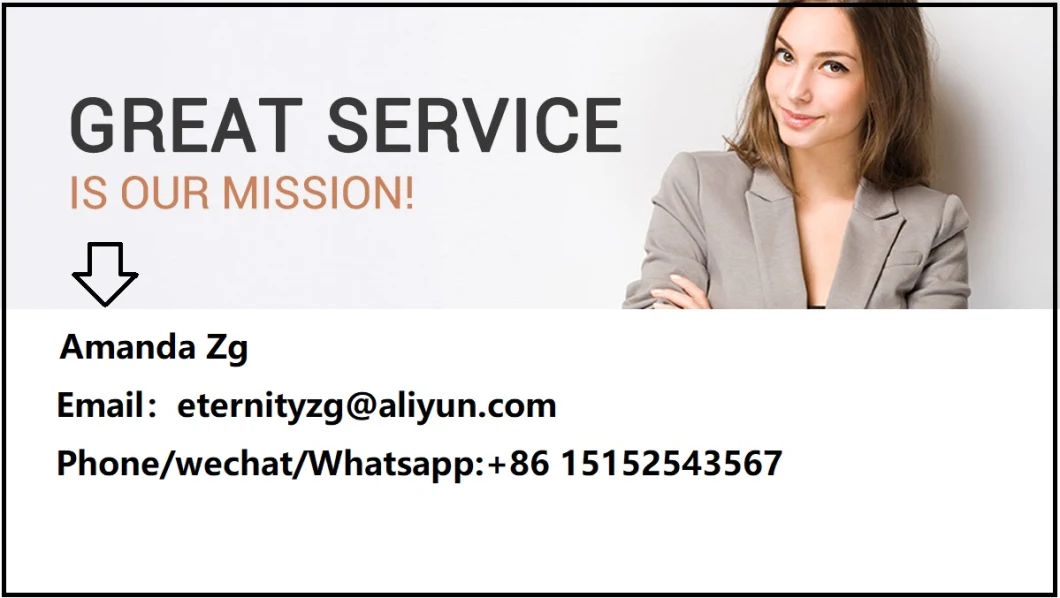 Our
More Paper Items